I LOVE THIS PHONE 🙂
Totally worth however much it costs. (I got it as a present from my parents a year or so ago.)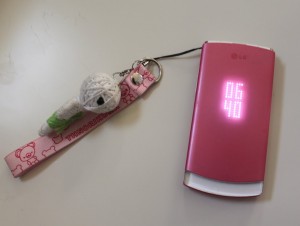 Front view! LCD display is showing the time (6:40 pm)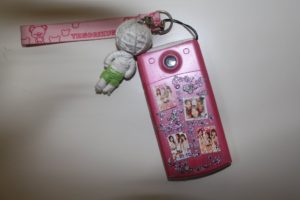 Back view. (The stickers and little flowery things are added by me)
Features:
3.0 Megapixel Camera
Internal+External Camera
LCD light up screen
Can take videos!
Has some really fun games. 🙂
Colors: Pink, Blue, Black. (I think you can find it on Amazon in light green, red, and white too?)
Really good battery life
Bluetooth
3 favorite things about this phone:
1. It's sleek yet super girly design!
2. The camera, (internal+external.) Good for camhoring+taking pictures of yourself with friends.
3. LCD light up screen! The animations are super cute!
Recommended to:
People who like cute things
People who like pink
People who like asian/fobby things
People who want to look like the girls in shojo manga 🙂
Ulzzangs/Himegyaru/Lolitas
Anyone who likes this phone!
Here are some more links:
http://www.lg.com/sg/mobile-phone/all-phones/LG-camera-phone-lollipop-GD580.jsp
http://mobiles.maxabout.com/mid4727/lg-lollipop
http://www.amazon.com/LG-Lollipop-Unlocked-Bluetooth-player-International/dp/B003D3NDEG
And here is my Youtube video about this phone!
If you have any questions just comment below or message me!
-A